International Climate Diplomacy – The Next Steps
Free Public Lecture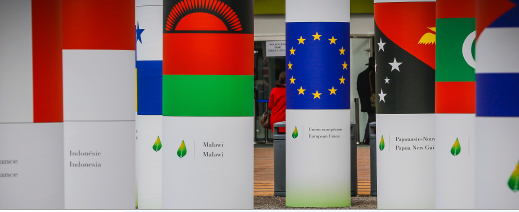 Theatre
Elisabeth Murdoch
Spencer Road
Map
Long-term success of the 2015 Paris Agreement negotiations will depend on implementation of the agreement. Nationally determined contributions to the mitigation and adaptation challenge are currently not sufficiently ambitious to meet the common goals of keeping global warming below 2 degrees C, or even 1.5 degree C.
What next steps can and must the international community take? How can international climate protection move forward in these times of Trump? How specifically could a process of increasing ambition work? And how can complex issues, such as loss and damage, be addressed?
An expert panel representing the perspectives of Australia, the European Union and Small-Island States will discuss the challenges, areas of contention and likely outcomes of the upcoming COP23 in Bonn, Germany.
The panel session will be chaired and moderated by Emily Gerrard, co-head Climate Change, Allens Linklaters, and a specialist environmental lawyer.
Presenters
Mr Patrick Suckling

Ambassador for the Environment
DFAT

Mr Suckling is a senior career officer with the Department of Foreign Affairs and Trade (DFAT), most recently serving as Australia's High Commissioner in New Delhi. He was previously posted overseas as Counsellor at the Australian Embassy in Washington. In Australia, Mr Suckling has served as First Assistant Secretary, Consular Public Diplomacy and Parliamentary Affairs Division, DFAT; First Assistant Secretary, International Division, Department of the Prime Minister and Cabinet; Assistant Secretary APEC Branch, DFAT; and Director, Trade Finance Section, DFAT.

Ms MJ Mace

Lawyer


MJ Mace is a lawyer and independent consultant. She has provided legal advice and assistance to the Alliance of Small Island Developing States (AOSIS) in the international climate change negotiations for over ten years and has been a member of the Kyoto Protocol Compliance Committee since 2006. From 2003 to 2008 she headed the Climate Change and Energy Programme at the Foundation for International Environmental Law and Development (FIELD) in London. From 1995 to 2001 she worked for the National Government of the Federated States of Micronesia, first for the FSM Supreme Court and then as an Assistant Attorney General. She has also worked as an Associate at Earthjustice in New Orleans and as an Associate at Skadden, Arps in Washington DC, where she practiced environmental and international trade law. MJ holds a BA from Yale, a JD from the University of Chicago and is a member of the New York State, Washington DC and Federated States of Micronesia Bars.

Mr Jacob Werksman

Principal Adviser to Directorate General for Climate Action
European Commission

Jacob Werksman joined the European Commission in April 2012 as Principal Adviser to Directorate General for Climate Action, where his work focuses on the international dimensions of European climate policy. His responsibilities include leading aspects of the European Union negotiations under the UN Framework Convention on Climate Change, and advising the Commission with regard to international partnerships to reduce greenhouse gas emissions, including through the International Civil Aviation Organization. Werksman is an international lawyer, specializing in international environmental law and international economic law. He has provided legal and policy advice to developed and developing country governments, NGOs and international institutions in the context of the UN climate change negotiations. He has taught and published widely on the international legal dimensions of climate policy, including on the design of compliance mechanisms, climate finance and on the relationship between carbon markets and international trade and investment agreements. Prior to joining the Commission, he held posts at the World Resources Institute, the Rockefeller Foundation, United Nations Development Programme, and the Foundation for International Environmental Law and Development (FIELD) in London. He has lectured in international environmental and economic law at the masters level at the New York University Law School, Georgetown University Law Center, and at the School of Oriental and African Studies and University College at the University of London. Werksman holds degrees from Columbia University (A.B.), the University of Michigan (J.D.) and the University of London (LL M.).